On February 1st, First Lady Michelle Obama announced through her social media posts that her new podcast, The Light Podcast, will be set to release on March 07. The podcast will feature notable moderators from her The Light We Carry tour, rounding out the themes explored in The Light We Carry. The eight-episode project is slated to be released weekly: exclusively on Audible, and then on podcast platforms everywhere.
Click on any of the images below to learn more: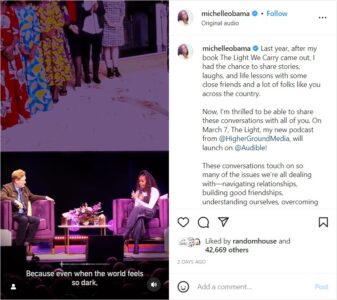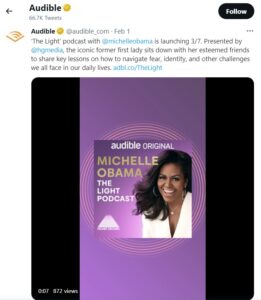 Click here to read our original post announcing Michelle Obama's The Light We Carry release!
About the Author: Michelle Obama served as First Lady of the United States from 2009 to 2017. A graduate of Princeton University and Harvard Law School, Mrs. Obama started her career as an attorney at the Chicago law firm Sidley & Austin, where she met her future husband, Barack Obama. She later worked in the Chicago mayor's office, at the University of Chicago, and at the University of Chicago Medical Center. Mrs. Obama also founded the Chicago chapter of Public Allies, an organization that prepares young people for careers in public service. She is the author of the #1 global bestseller Becoming and the #1 national bestseller American Grown. The Obamas currently live in Washington, D.C., and have two daughters, Malia and Sasha.