Penguin Random House Self-Service is our business-to-business portal that offers retailers a fast and easy way to order books, track shipments, review orders, manage invoices, and place claims. 
When you register with PRH Self-Service, you also get the ability to sign in on this site, Penguin Random House International Sales USA—using the same email address and password—and send your Wish List directly to your PRH Self-Service shopping cart. Ordering your favorite titles from PRH International Sales becomes even faster and easier. 
Registration only takes a few minutes. Start today! 
Step 1:

Have

Y

our PRH Account Number and

SAN

R

eady
To register, you will need your PRH account number and a Standard Address Number (SAN). 
If you recently opened a Penguin Random House business account, you will find your account number in the welcome email from the New Accounts team. Otherwise, you can find your PRH account number at the top of any Penguin Random House invoice. 

You may already have a SAN from the SAN agency (Bowker) or may have received one from the New Accounts team when you set up your business account with us (also called RHID).  If you don't, contact the New Accounts team: they will be happy to provide one to you at no charge. 
Step 2: Sign up 
Go to selfservice.penguinrandomhouse.biz/registration and enter your PRH Account Number and your SAN or RHID. Then click "Next" to continue registration.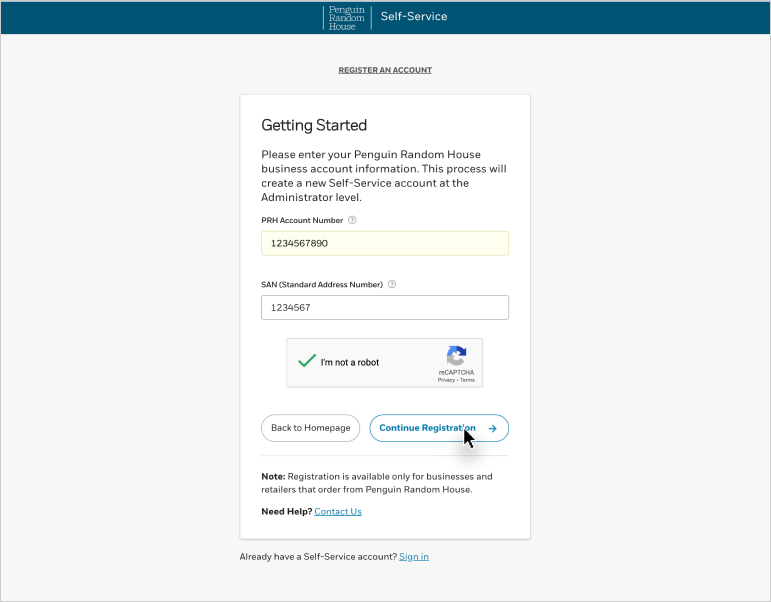 On the next screen you'll enter your email address and password. The final step will be to verify your account through email.  
Once completed, you're all set to browse and order at any time! 
For more information, please visit Penguin Random House Self-Service at selfservice.penguinrandomhouse.biz or contact the PRH Self-Service Support Team at bizcs@prh.com with any questions.