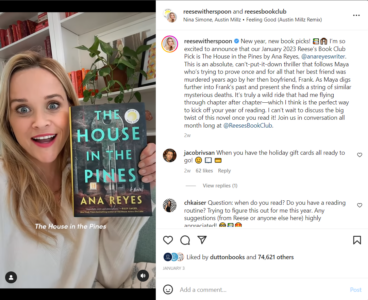 Early into January, Reese Witherspoon announced on Instagram that the first book club pick of the year is Ana Reyes' The House in the Pines. In the Instagram video announcement, Reese raves of the books 'un-put-down-ability' and that she was flipping through chapters.
The House in the Pines is Ana's first book (most definitely of many) and has solidified her as a thriller genre one-to-watch. The House in the Pines follows unreliable narrator Maya, seven years after witnessing her best friend's death. Struggling with addiction and gaps in her memory, Maya revisits her New England hometown to hopefully solve the mysterious cases behind deaths that seem to be tied up with an enigmatic man of her past…
If you're interested in learning more about Ana or The House in the Pines, check out a few of these interviews with Costco Connection and CrimeReads, and look out for interviews coming from the New York Times Book Review, and podcasts such as Oh! Murder, Feminist Book Club, and more.