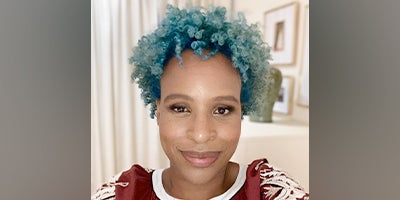 Anchor Books will publish #1 New York Times bestselling author Nicola Yoon's first novel for adults, ONE OF OUR KIND, in 2024. The announcement was made by Anchor Books EVP, Publisher Suzanne Herz.  US rights were acquired from Jodi Reamer, Senior Agent at Writers House Literary Agency in a heated auction. The book will be published in hardcover and as an ebook, and in audio by Penguin Random House; it will be published in paperback the next year.  
"We are thrilled to have Nicola Yoon join the Anchor list with this incredible psychological thriller," says Herz. "ONE OF OUR KIND further proves that Nicola is a storyteller whose talent has no limits."
Nicola Yoon says, "For most of my adult life, I've been thinking about what it means to truly be free when you're Black in America and the ways in which that freedom is complicated by the presumptions we make about ourselves and each other. ONE OF OUR KIND explores these ideas in the form of a social thriller that is part The Stepford Wives, part Get Out. I'm elated that the book has found a home with a brilliant editor in Caitlin Landuyt and the wonderful team at Anchor Books."
Caitlin Landuyt, Yoon's editor at Anchor Books says, "What I'm looking for on the Anchor list are books with a juicy hook and a driving plot that surprise the reader by asking them to consider issues they might not be thinking about, or push them to explore something beyond their comfort zone. This book delivers that and more. It's also one of my absolute favorite things in literature: a modern take on a classic. To me, updating The Stepford Wives to examine race is sheer genius. And the way Nicola has retained the true terror of that book while making it feel fresh and modern is inspired. Nicola's books always have a big question at the heart of them, and her characters are always puzzling through it, learning as they go, bringing the reader with them. That holds true whether she's writing romantic fiction, thrillers, horror, women's fiction—you name it—and you can certainly see that calling card on display in ONE OF OUR KIND. I can't wait for readers to see this side of Nicola's writing and I'm so honored to be working with her."
"When Nicola told me she was writing an adult novel I was excited," says Reamer, "but I admit, I did not expect a thriller posing such difficult questions. But the heart of ONE OF OUR KIND is a complicated philosophical debate told through profound depictions of romantic and familial love. It takes the Nicola Yoon canon to a brilliant new level, and I can't wait for fans and new readers to discover it."
 About ONE OF OUR KIND:
When Jasmyn Williams and her family move to the planned Black utopia of Liberty, California, she expects to find her kind of people, liberals and social justice activists striving for racial equality. But what she discovers instead are residents who seem more focused on spa treatments and keeping up appearances. As Jasmyn learns more about Liberty and its founders, she discovers a terrible secret that threatens to destroy her world in ways she could never have imagined. The Stepford Wives meets Get Out in #1 New York Times bestselling author Nicola Yoon's adult fiction debut.
About Nicola Yoon:
Nicola Yoon is the #1 New York Times bestselling author of Instructions for Dancing; Everything, Everything; and The Sun Is Also a Star, as well as a co-author of Blackout. She is a National Book Award finalist, a Michael L. Printz Honor Book recipient, a Coretta Scott King New Talent Award winner and the first Black woman to hit #1 on the New York Times Young Adult bestseller list. Two of her novels have been made into major motion pictures.  She's also the co-publisher of Joy Revolution, a Random House young adult imprint dedicated to love stories starring people of color. She grew up in Jamaica and Brooklyn, and now lives in Los Angeles with her husband, the novelist David Yoon, and their daughter.