Due to ongoing industry-wide printing and shipping complications as a result of COVID-19, we strongly urge you to place your year-end orders now. Shipping and printing times have both been impacted by supply chain issues. We want to be sure you get the front and backlist stock you need in time for holiday gift buying. Please consider ordering up now for any titles you'll need through January, 2022.

Place your year-end orders by October 31 to ensure you receive the stock you need.
Order stock now for the front and backlist you need through January. Below please find highlights of both front and backlist titles that readers around the world will be looking for this holiday season. Utilizing proprietary consumer insights data, we've compiled the top books in trending categories. Over the next several weeks, we will send you highlights of these trending categories as well as everything you need to effectively promote top titles in your store and online. Be on the lookout for author videos, exclusive content, printable materials, social media assets, and much more!
Please reach out to your sales representative for any custom or specific holiday promotional needs. You can access an order form with all of the below titles here.
Order Holiday Stock for These Bestselling Titles Now!
The Lincoln Highway
Amor Towles
In June, 1954, eighteen-year-old Emmett Watson is driven home to Nebraska by the warden of the juvenile work farm where he has just served fifteen months for involuntary manslaughter. His mother long gone, his father recently deceased, and the family farm foreclosed upon by the bank, Emmett's intention is to pick up his eight-year-old brother, Billy, and head to California where they can start their lives anew. Spanning just ten days and told from multiple points of view, Towles's third novel will satisfy fans of his multi-layered literary styling while providing them an array of new and richly imagined settings, characters, and themes.
9780593489338
$18 US  |  Int'l C
US, Canada, Open Mkt
10/05/2021
EXPORT EDITION
Project Hail Mary
Andy Weir
Ryland Grace is the sole survivor on a desperate, last-chance mission—and if he fails, humanity and the earth itself will perish. Except that right now, he doesn't know that. He can't even remember his own name, let alone the nature of his assignment or how to complete it. An irresistible interstellar adventure as only Andy Weir could deliver, Project Hail Mary is a tale of discovery, speculation, and survival to rival The Martian—while taking us to places it never dreamed of going.
9780593355275
$17 US  |  Int'l C
US, Canada, Open Mkt
05/04/2021
EXPORT EDITION
Black Leopard, Red Wolf
Marlon James
Tracker is known for his skills as a hunter. Engaged to track down a mysterious boy, Tracker breaks his own rule of always working alone when he finds himself part of a group that comes together to search for the boy. As Tracker follows the boy's scent–from one ancient city to another; into dense forests and across deep rivers–he and the band are set upon by creatures intent on destroying them. Drawing from African history and mythology and his own imagination, Marlon James has written a novel unlike anything before. Black Leopard, Red Wolf is both surprising and profound as it explores the fundamentals of truth, the limits of power, and our need to understand them both.
9780735220188
$18 US  |  Int'l C
US, Opn Mkt (no CAN)
02/04/2020
EXPORT EDITION
Dune (Movie Tie-In)
Frank Herbert
A mythic and emotionally charged hero's journey, Dune tells the story of Paul Atreides, a brilliant and gifted young man born into a great destiny beyond his understanding, who must travel to the most dangerous planet in the universe to ensure the future of his family and his people. As malevolent forces explode into conflict over the planet's exclusive supply of the most precious resource in existence—a commodity capable of unlocking humanity's greatest potential—only those who can conquer their fear will survive.
9780593438374
$18 US  |  Trade Paperback
US, Canada, Open Mkt
09/21/2021
The Underground Railroad (Television Tie-in)
Colson Whitehead
Cora is a young slave on a cotton plantation in Georgia. When Caesar, a slave who has recently arrived from Virginia, urges her to join him on the Underground Railroad, she seizes the opportunity and escapes with him. In Whitehead's ingenious conception, the Underground Railroad is no mere metaphor: engineers and conductors operate a secret network of actual tracks and tunnels beneath the Southern soil. The Underground Railroad is both the gripping tale of one woman's will to escape the horrors of bondage and a powerful meditation on the history we all share.

9780593314760
$12 Export Price $16.95 US  |  Trade Paperback
US, Canada, Open Mkt
05/04/2021
Beasts of Prey
Ayana Gray
There's no such thing as magic in the broken city of Lkossa, especially for sixteen-year-old Koffi, who holds a power within her that could only be described as magic—a power that if discovered could cost her life. Indentured to the notorious Night Zoo, Koffi knows the fearsome creatures in her care and paying off her family's debts to secure their eventual freedom can be her only focus. But the night those she loves are gravely threatened by the Zoo's cruel master, Koffi finally unleashes the power she doesn't fully understand, upending her life completely. The hunt begins. But it quickly becomes unclear whether they are the hunters or the hunted.
9780593407639
$10.5 US  |  Int'l PB
US, Canada, Open Mkt
09/28/2021
EXPORT EDITION
Our Country Friends
Gary Shteyngart
It's March 2020 and a group gathers in a country house to wait out the pandemic. Over the next six months, friendships and romances will take hold, while old betrayals will emerge, forcing each character to reevaluate whom they love and what matters most. The unlikely cast of characters includes a Russian-born novelist; a struggling Indian American writer; a wildly successful Korean American app developer; a global dandy with three passports; and a movie star, the Actor, whose arrival upsets the equilibrium of this chosen family. Both elegiac and very, very funny, Our Country Friends is the most ambitious book yet by the author of the beloved bestseller Super Sad True Love Story.
9780593448175
$19 US  |  Int'l C
World
11/02/2021
EXPORT EDITION
First Person Singular
Haruki Murakami
The eight stories in this new book are all told in the first person by a classic Murakami narrator. From memories of youth, meditations on music, and an ardent love of baseball, to dreamlike scenarios and invented jazz albums, together these stories challenge the boundaries between our minds and the exterior world. Occasionally, a narrator may or may not be Murakami himself. Is it memoir or fiction? The reader decides. Philosophical and mysterious, the stories in First Person Singular all touch beautifully on love and solitude, childhood and memory. . . all with a signature Murakami twist.
9780593318072
$22 Export Price $28 US  |  Hardcover
US, Opn Mkt (no CAN)
04/06/2021
Critical Role: Vox Machina–Kith & Kin
Marieke Nijkamp
Vex and Vax have always been outsiders. A harsh childhood in the elite elven city of Syngorn quickly taught them not to rely on others. Now, freed from the expectations of their exacting father and the scornful eyes of Syngorn's elves, the cunning ranger and the conning rogue have made their own way in the world of Exandria. Written by #1 New York Times bestselling author Marieke Nijkamp, Critical Role: Vox Machina—Kith & Kin follows a brand-new adventure that delves into the twin's unexplored history, and returns to some of the iconic moments that forged Vox Machina's most unbreakable bond.
9780593496657
$18 US  |  Int'l C
US, Canada, Open Mkt
11/30/2021
EXPORT EDITION
Cravings: All Together
Chrissy Teigen with Adeena Sussman
Chrissy Teigen has always found a big sense of fun in the kitchen, but more than ever, she turns to the stove for comfort and warmth. Now Chrissy shares the recipes that have sustained her and her family, the ones that made her feel like everything is going to be okay. Recipes for Cozy Classic Red Lentil Soup, ingenious Chrissy signatures like Stuffed PB&J French Toast and puff pastry–wrapped Meatloaf Wellington, and family favorites like her mom Pepper's Thai-style Sloppy Joes and John's Saturday-morning Blueberry Buttermilk Pancakes will have you feeling like you're pulling up a chair to her table.
9780593135426
$29.99 US  |  Hardcover
World
10/26/2021
Rebel Homemaker
Drew Barrymore with Pilar Valdes
Drew Barrymore has always done things in her own unique way—including how she cooks, lives, and finds happiness at home. In her first lifestyle and cookbook, Drew shares recipes, stories from her life, and personal photos that show how she lives a healthy, delicious, and joyful life through her own rebellious brand of homemaking. In her first lifestyle book, Drew Barrymore will take you inside her kitchen and her life, sharing thirty-six amazing recipes, beautiful photos, many taken by Drew herself, as well as personal essays and stories.
9780593184103
$30 US  |  Hardcover
US, Canada, Open Mkt
11/02/2021
Led Zeppelin
Bob Spitz
From the author of the definitive New York Times bestselling history of the Beatles comes the authoritative account of the group many call the greatest rock band of all time, arguably the most successful, and certainly one of the most notorious. The music is only part of the legend: Led Zeppelin is also the story of how the sixties became the seventies, of how playing clubs became playing stadiums, of how innocence became decadence. Led Zeppelin gave no quarter, and neither has Bob Spitz. Led Zeppelin is the full and honest reckoning the band has long awaited, and richly deserves.
9780399562426
$35 US  |  Hardcover
World
11/09/2021
Greenlights
Matthew McConaughey
The Academy Award®–winning actor, father of three, and bestselling author of Greenlights distills more than three decades of journaling experience to help you reflect, seek clarity, and forge your own path with this life-changing practice. Greenlights: Your Journal, Your Journey is a guided companion to the #1 New York Times bestselling memoir Greenlights, filled with prompts, pithy quotes, adages, outlaw wisdom, and advice on how to live with greater satisfaction from Matthew McConaughey. Matthew has been writing in journals since he was fifteen years old. His adventures have taken him from Texas to Australia, from Mali to Peru—and he has chronicled them all. In this authentic, unconventional journal, the prompts encourage going inside: remembering, reflecting, and musing, and also going outside: adventuring, taking risks, and dreaming big. Who could be a better guide for seekers setting out on the road to understanding their lives inside and out, past, present, and future?
9780593235478
$20 US  |  Journal
US, Canada, Open Mkt
12/07/2021
Burn After Writing (Dots)
Sharon Jones
The world has not only become one giant social media feed, but also one giant confessional. Burn After Writing allows you to spend less time scrolling and more time self-reflecting. Through incisive questions and thought experiments, this journal helps you learn new things while letting others go. Whether you are going through the ups and downs of growing up, or know a few young people who are, you will flourish by finding free expression–even if through a few tears! Push your limits, reflect on your past, present, and future, and create a secret book that's about you, and just for you. This is not a diary, and there is no posting required. And when you're finished, toss it, hide it, or Burn After Writing.
9780593421802
$14 US  |  Trade Paperback
US, Canada, Open Mkt
10/05/2021
Sherlock Holmes: The Complete Novels and Stories Volume I
Sir Arthur Conan Doyle
This collection of Sherlock Holmes's adventures includes the early novel A Study in Scarlet, which introduced the eccentric genius of Sherlock Holmes to the world. Next, The Sign of Four presents Holmes's famous "seven percent solution" and the strange puzzle of Mary Morstan in the quintessential locked-room mystery. Also included are Holmes's feats of extraordinary detection in such famous cases as the chilling The Adventure of the Speckled Band, the baffling riddle of The Musgrave Ritual, and the ingeniously plotted The Five Orange Pips, tales that bring to life a Victorian England of horse-drawn cabs, fogs, and the famous lodgings at 221B Baker Street, where Sherlock Holmes earned his undisputed reputation as the greatest fictional detective of all time.
9780553212419
$6.95 US  |  MM
World
11/01/1986
All of the Marvels
Douglas Wolk
The superhero comic books that Marvel Comics has published since 1961 are the longest continuous, self-contained work of fiction ever created: over half a million pages to date, and still growing. Everyone recognizes its protagonists: Spider-Man, the Avengers, the X-Men. Yet not even the people telling the story have read the whole thing—nobody's supposed to. So, of course, that's what Wolk did: he read all 27,000+ comics that make up the Marvel Universe thus far, from Alpha Flight to Omega the Unknown. And then he made sense of it—seeing into the ever-expanding story, in its parts and as a whole, and seeing through it, as a prism through which to view the landscape of American culture.
9780593300596
$18 US  |  Int'l C
US, Canada, Open Mkt
10/12/2021
EXPORT EDITION
Immune
Philipp Dettmer
Each chapter of this incredible book delves into an element of the immune system, including defenses like antibodies and inflammation as well as threats like bacteria, allergies, and cancer, as Dettmer reveals why boosting your immune system is actually nonsense, how parasites sneak their way past your body's defenses, how viruses work, and what goes on in your wounds when you cut yourself. Enlivened by engaging full-color graphics and immersive descriptions, Immune turns one of the most intricate, interconnected, and confusing subjects—immunology—into a gripping adventure through an astonishing alien landscape. Immune is a vital and remarkably fun crash course in what is arguably, and increasingly, the most important system in the body.
9780593241318
$35 US  |  Hardcover
US, Canada, Open Mkt
11/02/2021
Atomic Habits
James Clear
No matter your goals, Atomic Habits offers a proven framework for improving–every day. James Clear, one of the world's leading experts on habit formation, reveals practical strategies that will teach you exactly how to form good habits, break bad ones, and master the tiny behaviors that lead to remarkable results. Atomic Habits will reshape the way you think about progress and success, and give you the tools and strategies you need to transform your habits–whether you are a team looking to win a championship, an organization hoping to redefine an industry, or simply an individual who wishes to quit smoking, lose weight, reduce stress, or achieve any other goal.
9780735211292
$19.50 Export Price $27 US  |  Hardcover
US, Canada, Open Mkt
10/16/2018
Start with Why
Simon Sinek
In 2009, Simon Sinek started a movement to help people become more inspired at work, and in turn inspire their colleagues and customers. Since then, millions have been touched by the power of his ideas, including more than 28 million who've watched his TED Talk based on Start With Why— the third most popular TED video of all time. Start With Why shows that the leaders who've had the greatest influence in the world all think, act, and communicate the same way — and it's the opposite of what everyone else does. Sinek calls this powerful idea The Golden Circle, and it provides a framework upon which organizations can be built, movements can be led, and people can be inspired. And it all starts with WHY.
9781591846444
$16 US  |  Trade Paperback
US, Canada, Open Mkt
12/27/2011
12 Rules for Life
Jordan B. Peterson
Renowned psychologist Jordan B. Peterson's answer to this most difficult of questions uniquely combines the hard-won truths of ancient tradition with the stunning revelations of cutting-edge scientific research. Humorous, surprising and informative, Dr. Peterson tells us why skateboarding boys and girls must be left alone, what terrible fate awaits those who criticize too easily, and why you should always pet a cat when you meet one on the street. Dr. Peterson journeys broadly, discussing discipline, freedom, adventure and responsibility, distilling the world's wisdom into 12 practical and profound rules for life. 12 Rules for Life shatters the modern commonplaces of science, faith and human nature, while transforming and ennobling the mind and spirit of its readers.
9780735278516
$12.99 US  |  Int'l A
Open market only
04/30/2019
EXPORT EDITION
Tuesdays with Morrie
Mitch Albom
For Mitch Albom, the person who helped him see the world as a profound place was Morrie Schwartz, his college professor from nearly twenty years ago. Mitch lost track of this mentor as he made his way through life and the insights faded. But Mitch had a second chance to reconnect with his mentor. He rediscovered Morrie in the last months of the older man's life. Knowing he was dying, Morrie visited with Mitch in his study every Tuesday, just as they used to back in college.  Their rekindled relationship turned into one final "class": lessons in how to live. Tuesdays with Morrie is a magical chronicle of their time together, through which Mitch shares Morrie's lasting gift with the world.
9780385496490
$8.99 US  |  Int'l B
US, Canada, Open Mkt
12/29/1998
EXPORT EDITION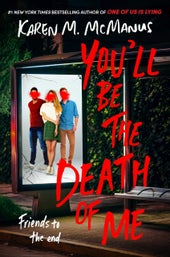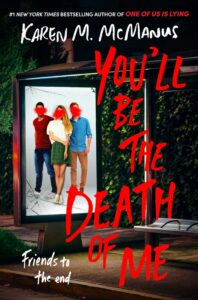 You'll Be the Death of Me
Karen M. McManus
Ivy, Mateo, and Cal used to be close. Now all they have in common is Carlton High and the beginning of a very bad day. Type A Ivy lost a student council election to the class clown. Heartthrob Mateo is burned out from working two jobs. And outsider Cal just got stood up . . . again. So when the three unexpectedly run into each other, they decide to avoid their problems by ditching. Except they've barely left the parking lot before they run out of things to say. . . until they spot another Carlton High student skipping school—and follow him to the scene of his own murder. It turns out Ivy, Mateo, and Cal still have some things in common…like a connection to the dead kid. And they're all hiding something. Could it be that their chance reconnection wasn't by chance after all?
9780593433911
$11 US  |  Int'l PB
US, Canada, Open Mkt
11/30/2021
EXPORT EDITION
We Were Liars
E. Lockhart
A modern, sophisticated suspense novel from National Book Award finalist, and Printz Award honoree E. Lockhart.

A beautiful and distinguished family.
A private island.
A brilliant, damaged girl; a passionate, political boy.
A group of four friends—the Liars—whose friendship turns destructive.
A revolution. An accident. A secret.
Lies upon lies.
True love.
The truth.

Read it.
And if anyone asks you how it ends, just LIE.
9780385741279
$10.99 US  |  Trade Paperback
US, Canada, Open Mkt
05/29/2018
Between Shades of Gray
Ruta Sepetys; adapted by Andrew Donkin; illustrated by Dave Kopka; colors by Brann Livesay; lettering by Chris Dickey
Just in time for the 10th anniversary of Between Shades of Gray, Ruta Sepetys's award-winning debut novel, and inspiration for the major motion picture Ashes in the Snow, is now a gorgeous graphic novel! From #1 New York Times and international bestselling author and Carnegie Medal winner of Salt to the Sea comes a story of loss and of fear–and ultimately of survival–in a brand-new four-color format. A moving and haunting novel perfect for readers of The Book Thief, now available as a stunning graphic novel.
9780593404850
$12.99 US  |  Trade Paperback
World
10/12/2021
Call Us What We Carry
Amanda Gorman
Formerly titled The Hill We Climb and Other Poems, the luminous poetry collection by #1 New York Times bestselling author and presidential inaugural poet Amanda Gorman captures a shipwrecked moment in time and transforms it into a lyric of hope and healing. In Call Us What We Carry, Gorman explores history, language, identity, and erasure through an imaginative and intimate collage. Harnessing the collective grief of a global pandemic, these poems shine a light on a moment of reckoning and reveal that Gorman has become our messenger from the past, our voice for the future.
9780593465066
$20.50 Export Price $24.99 US  |  Hardcover
US, Canada, Open Mkt
12/07/2021
The Smartest Kid in the Universe Book 2: Genius Camp
Chris Grabenstein
Jake McQuade is the smartest kid in the universe—and he's back to defend his title! This time, he is heading off to a camp for geniuses sponsored by billionaire tech mogul Zane Zinkle. But genius camp is not like regular camp. There are limo buses, robot polar bears, and high-tech cabins with high-tech toilets! But it isn't all fun and brain games at camp, especially when Jake goes up against the artificially intelligent Virtuoso quantum computer—the smartest machine in the universe—which also happens to be Zinkle's latest genius creation! It's boy versus bot in this epic showdown packed with s'mores, puzzles, action, adventure, and hilarious, jelly bean-fueled fun!
9780593433751
$10 US  |  Int'l PB
World
11/30/2021
EXPORT EDITION
Charlie and the Chocolate Factory
Roald Dahl; Illustrated by Quentin Blake
Willy Wonka's famous chocolate factory is opening at last! But only five lucky children will be allowed inside. And the winners are: Augustus Gloop, an enormously fat boy whose hobby is eating; Veruca Salt, a spoiled-rotten brat whose parents are wrapped around her little finger; Violet Beauregarde, a dim-witted gum-chewer with the fastest jaws around; Mike Teavee, a toy pistol-toting gangster-in-training who is obsessed with television; and Charlie Bucket, Our Hero, a boy who is honest and kind, brave and true, and good and ready for the wildest time of his life!
9780142410318
$8.99 US  |  DG
US, Canada, Open Mkt
08/16/2007
Wreck This Picture Book
Keri Smith
Keri Smith, creator of the mega-bestselling Wreck This Journal, now brings her imagination and inspiration to children with this picture book that explores the very active experience of reading. We are all part of the books we read, because our individual reactions, ideas, and emotions make the book whole, and these things are changing all the time. This picture book is an invitation to honor your own vision and to welcome imperfection. Kids will discover that reading can engage all five senses, and that what they themselves bring to a book is an important contribution.
9780593111024
$17.99 US  |  Hardcover
US, Canada, Open Mkt
11/03/2020
I Am a Bunny
Ole Risom; illustrated by Richard Scarry
I am a bunny. My name is Nicholas. I live in a hollow tree. In the spring, Nicholas picks flowers and chases butterflies, and in the summer, watches the frogs in the pond. In the autumn, he sees the animals preparing for the winter. When winter comes, Nicholas watches the snow falling from the sky, then curls up in his hollow tree and dreams about spring. In print for well over 50 years, this beautifully illustrated, gentle story has been a favorite Golden Book for generations.
9780375827785
$7.99 US  |  Board
World
01/13/2004
When You Trap a Tiger
Tae Keller
When Lily and her family move in with her sick grandmother, a magical tiger straight out of her halmoni's Korean folktales arrives, prompting Lily to unravel a secret family history. Long, long ago, Halmoni stole something from the tigers. Now they want it back. And when one of the tigers approaches Lily with a deal Lily is tempted to agree. But deals with tigers are never what they seem! Tae Keller, the award-winning author of The Science of Breakable Things, shares a sparkling tale about the power of stories and the magic of family. Think Walk Two Moons meets Where the Mountain Meets the Moon!
9780593175347
$9 US  |  Int'l PB
World
01/28/2020
EXPORT EDITION