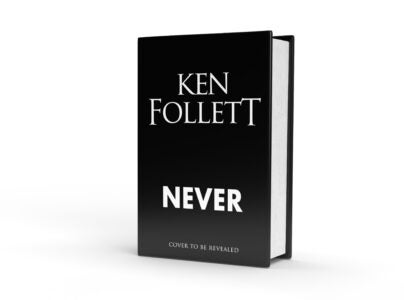 Never
Ken Follett
The new must-read epic from master storyteller Ken Follett: more than a thriller, it's an action-packed, globe-spanning drama set in the present day.

Never will be published on 9 November in the USA, the UK, and in other countries on the same day or soon after. More details will be announced in April.

In 1989 Follett stunned readers and crtics with his epic The Pillars of the Earth. The ambitious and gripping story of building a cathedral marked a distinct shift in genre, from bestselling thrillers to historical fiction, and has gone on to be Follett's most popular book, so far selling over 27 million copies worldwide.

Never promises another exciting change of direction which is sure to capture the imagination of long-term fans and new readers alike.

Ken Follett said: "I'm pleased and flattered that my publishers are so excited by Never that they can't wait to bring it out."

Access our Press Kit with more information and assets here.
9780593300015
$36 US  |  Hardcover  |  Viking
US, Canada, Open Mkt
11/09/2021
Available Now from Ken Follett:
About the Author:
Ken Follett is one of the world's best-loved authors, selling more than 170 million copies of his thirty-two books. Follett's first bestseller was Eye of the Needle, a spy story set in the Second World War. In 1989, The Pillars of the Earth was published and has since become Follett's most popular novel. It reached number one on bestseller lists around the world and was an Oprah's Book Club pick. Its sequels, World Without End and A Column of Fire, proved equally popular, and the Kingsbridge series has sold more than forty million copies worldwide. Follett lives in Hertfordshire, England, with his wife, Barbara. Between them they have five children, six grandchildren, and two Labradors.