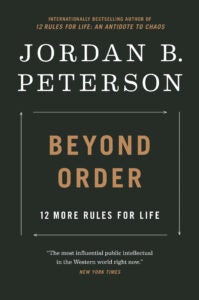 BEYOND ORDER
The sequel to 12 Rules for Life offers further guidance on the periolus path of modern life. 
In 12 Rules for Life, clinical psychologist and celebrated professor at Harvard and the University of Toronto Dr. Jordan B. Peterson helped millions of readers impose order on the chaos of their lives. Now, in this bold sequel, Peterson delivers twelve more lifesaving principles for resisting the exhausting toll that our desire to order the world inevitably takes.
In a time when the human will increasingly imposes itself over every sphere of life—from our social structures to our emotional states—Peterson warns that too much security is dangerous. What's more, he offers strategies for overcoming the cultural, scientific, and psychological forces causing us to tend toward tyranny, and teaches us how to rely instead on our instinct to find meaning and purpose, even—and especially—when we find ourselves powerless.
While chaos, in excess, threatens us with instability and anxiety, unchecked order can petrify us into submission. Beyond Order provides a call to balance these two fundamental principles of reality itself, and guides us along the straight and narrow path that divides them.



$22 US

  |  

Int'l C

  |  

Portfolio




US, Opn Mkt (no CAN)




03/02/2021
EXPORT EDITION
Also Available Now from Jordan B. Peterson: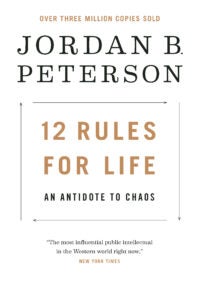 12 RULES FOR LIFE
#1 INTERNATIONAL BESTSELLER
What does everyone in the modern world need to know? Renowned psychologist Jordan B. Peterson's answer to this most difficult of questions uniquely combines the hard-won truths of ancient tradition with the stunning revelations of cutting-edge scientific research.
Humorous, surprising and informative, Dr. Peterson tells us why skateboarding boys and girls must be left alone, what terrible fate awaits those who criticize too easily, and why you should always pet a cat when you meet one on the street.
What does the nervous system of the lowly lobster have to tell us about standing up straight (with our shoulders back) and about success in life? Why did ancient Egyptians worship the capacity to pay careful attention as the highest of gods? What dreadful paths do people tread when they become resentful, arrogant and vengeful? Dr. Peterson journeys broadly, discussing discipline, freedom, adventure and responsibility, distilling the world's wisdom into 12 practical and profound rules for life. 12 Rules for Life shatters the modern commonplaces of science, faith and human nature, while transforming and ennobling the mind and spirit of its readers.
9780735278516
$12.99 US  |  Int'l B  |  Random House Canada
Open market only
04/30/2019
Export Edition
About the Author:

Dr. Jordan B. Peterson is the bestselling author of 12 Rules for Life, which has sold over five million copies worldwide. With his students and colleagues, Dr. Peterson has published over a hundred scientific papers, and his 1999 book Maps of Meaning revolutionized the psychology of religion. He lives in Toronto, Ontario with his family.