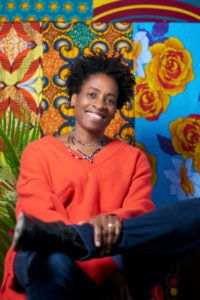 Penguin Random House author Jacqueline Woodson was named the 2020 Recipient of the Hans Christian Anderson Award!
The Hans Christian Andersen Award is the highest international recognition given to an author and an illustrator of children's books. Given every other year by IBBY, the award recognize lifelong achievement and is presented to an author and an illustrator whose complete works have made an important, lasting contribution to children's literature.
In their press release, the committee said that Jacqueline Woodson's books "feature lyrical language, powerful characters, and an abiding sense of hope. The dialogues are pitch perfect, the stories are raw and fresh, and the endings satiate the reader." Woodson is the author of more than thirty books, including novels, poetry, and picture books.
One of her most lauded titles is the National Book Award-winning memoir in verse  Brown Girl Dreaming. She frequently writes about teens making the transition from childhood to adult life. Masterful characterization and a deep understanding of the adolescent psyche are hallmarks of her work. Her books are written in the first person, usually from a female point of view. Racism, segregation, economic injustice, social exclusion, prejudice and sexual identity are all recurring themes.
"It's important to hold up mirrors for kids to see their experience is legitimate. Too often those mirrors aren't there for them," says Woodson.
Jacqueline Woodson was the 2018-2019 National Ambassador for Young People's Literature and in 2018, received both the Astrid Lindgren Memorial Award and the Children's Literature Legacy Award.
See here for a full list of Jacqueline Woodson titles.