Universal Pictures recently released the second trailer for THE HOUSE WITH A CLOCK IN ITS WALLS, the movie adaptation of the classic John Bellairs novel starring Jack Black and Cate Blanchett.
The movie is based on the bestselling 1973 middle grade gothic horror novel of the same name by John Bellairs, and illustrated by Edward Gorey.  The movie stars Jack Black, Cate Blanchett, Owen Vaccaro, Renee Elise Goldsberry, Sunny Suljic and Kyle MacLachlan.
When Lewis Barnavelt, an orphan, comes to stay with his uncle Jonathan, he expects to meet an ordinary person. But he is wrong. Uncle Jonathan and his next-door neighbor, Mrs. Zimmermann, are both witches! Lewis is thrilled. At first, watching magic is enough. Then Lewis experiments with magic himself and unknowingly resurrects the former owner of the house: a woman named Serenna Izard. It seems that Serenna and her husband built a timepiece into the walls–a clock that could obliterate humankind. And only the Barnavelts can stop it!
THE HOUSE WITH A CLOCK IN ITS WALLS opens in theaters on September 21, 2018. Watch the full trailer here! The first trailer can also be seen here.
See a list of international movie release dates here.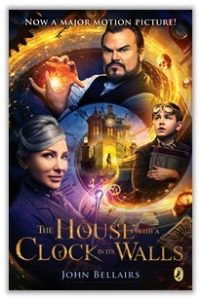 THE HOUSE WITH A CLOCK IN ITS WALLS by John Bellairs; illustrated by Edward Gorey
[Puffin; movie tie-in paperback on sale August 28, 2018; ages 8-12; 9780451481283; $7.99]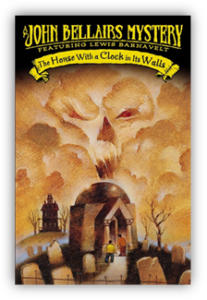 THE HOUSE WITH A CLOCK IN ITS WALLS by John Bellairs; Illustrated by Edward Gorey
[Puffin;  Available now; Ages 8-12; 9780142402573; $7.99]