Penguin Young Readers will publish a companion to Chelsea Clinton's #1 New York Times bestselling picture book SHE PERSISTED.
SHE PERSISTED AROUND THE WORLD: 13 Women Who Changed History is scheduled for publication March 6, 2018.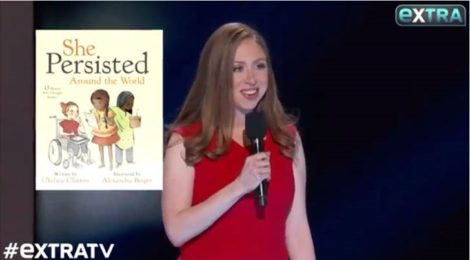 The news was announced last night on Extra TV in an exclusive interview with AJ Calloway. Watch the interview here.
In this companion book to She Persisted: 13 American Women Who Changed the World, Chelsea Clinton introduces readers to a group of thirteen incredible women who have shaped history all across the globe.
She Persisted Around the World is a book for everyone who has ever aimed high and been told to step down, for everyone who has ever raised their voice and been told to quiet down, and for everyone who has ever felt small, unimportant or unworthy.
Alexandra Boiger's vibrant artwork accompanies this inspiring text that shows readers of all ages that, no matter what obstacles come their way, they have the power to persist and succeed.
This book features:
Marie Curie
Sor Juana Ines de la Cruz
Viola Desmond
Sissi do Amor Lima
Leymah Gbowee
Caroline Herschel
Wangari Maathai
Aisha Rateb
J.K. Rowling
Kate Sheppard
Yuan Yuan Tan
Mary Verghese
Malala Yousafzai