The New York Times exclusively reported that ISLANDBORN, a debut picture book by Pulitzer Prize winning novelist Junot Díaz and illustrated by Leo Espinosa, will be published in March 2018 by Penguin Young Readers.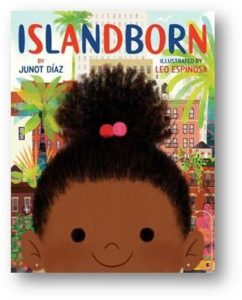 Per the Times: 
"Islandborn" is a picture book — Mr. Díaz's first work of fiction for young readers. It grew out of a promise that he made to his goddaughters two decades ago, when they asked him to write a book that featured characters like them, Dominican girls living in the Bronx.

Mr. Díaz's goddaughters are now in their late 20s, but he has finally delivered on his promise. Next spring, "Islandborn" will be published by Dial Books for Young Readers, with illustrations by Leo Espinosa.

"Behind their request was this longing for books and stories that resonated for them and included them, and opened a space where they could be protagonists in the world," he said.

The story, aimed at 4- to 8-year-olds, engages with many of the same themes that Mr. Díaz has wrestled with in his fiction: immigration and identity, the weight of collective memory, and feelings of displacement and belonging.
The book will be published simultaneously in Spanish, under the title LOLA.
Read the full piece here