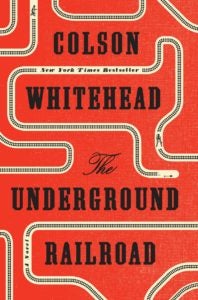 Our authors' and our treasured long-standing good fortune with the annual National Book Awards continued last night in downtown Manhattan, as Colson Whitehead's THE UNDERGROUND RAILROAD won the 2016 prize for Fiction.
This is the fourth consecutive year a Penguin Random House title has been honored in this category.
Mr. Whitehead accepted his award to thunderous applause from the 700 guests, among them, our CEO Markus Dohle, publishing colleagues from across our imprints, and members of the Penguin Random House shareholder board, including Bertelsmann CEO Thomas Rabe and Pearson CEO John Fallon, both attending their first-ever NBA ceremony.
In THE UNDERGROUND RAILROAD, a #1 New York Times Hardcover Fiction bestseller from Doubleday, Colson Whitehead tells the harrowing story of Cora, an indomitable teenage slave and her desperate bid for freedom from an antebellum cotton plantation in Georgia circa 1850. In August, THE UNDERGROUND RAILROAD became an Oprah's Book Club selection, was excerpted in a stand-alone New York Times Magazine section, and received rave reviews. In her New York Times daily review, Michiko Kakutani said the novel "possesses the chilling matter-of-fact power of the slave narratives collected by the Federal Writers' Project in the 1930s, with echoes of Toni Morrison's Beloved, Victor Hugo's Les Misérables, Ralph Ellison's Invisible Man, and brush strokes borrowed from Jorge Luis Borges, Franz Kafka and Jonathan Swift… Whitehead has told a story essential to our understanding of the American past and the American present."
From the podium, Mr. Whitehead exuberantly observed that the "last four months since the book came out have been incredible," noting that Doubleday has been his "only publisher for eighteen years," he's been an author. He thanked his publicity teams over the years, and praised his editor Bill Thomas: "No matter what kooky [book] idea I come up with, he assures me we will do an incredible job publishing it. Thank you for your faith in me all these years," said Mr. Whitehead. "It is incredible to have someone like Bill in your corner."
Earlier in the evening Knopf/Vintage author Robert A. Caro was presented with the National Book Foundation's 2016 Medal for Distinguished Contribution to American Letters.
In a book world of dizzying change, the National Book Award Ceremony dinner remains a celebration of authors, publishers, and the readers we serve. Our cross-company pride in Colson Whitehead's achievement, and in Bill Thomas, and the publishing team at Doubleday, also embraces our multiple Penguin Random House NBA longlist semi-finalists and short list finalists this year.
It continues to be a humbling privilege for us to have the opportunity to bring their work to the widest possible audience.