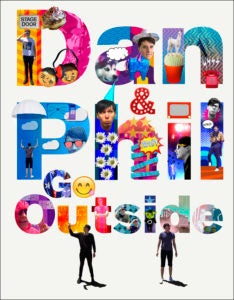 Title: Dan and Phil Go Outside
HC ISBN: 9781524701451
EBK ISBN: 9781524701468
On-sale date: 11/3/2016
Price: $19.99 US
Trim size: 7-7/16 x 9-11/16
Page count: 224
Rights: US,CAN,OpnMkt(no EU)
YouTube sensations Dan Howell (danisnotonfire) and Phil Lester (AmazingPhil) were just two awkward guys who shared their lives on the Internet . . . until now. Dan Howell and Phil Lester, avoiders of human contact and direct sunlight, actually went outside. Traveling around the world on tour, they have collected hundreds of exclusive, intimate, and funny photos, as well as revealing and candid side notes, to show the behind-the-scenes story of their adventure.
Fans of Dan and Phil's #1 New York Times bestseller, The Amazing Book Is Not on Fire, and their more than 10 million YouTube subscribers will love this full-color book featuring never-before-seen photos and stories from Dan and Phil.
Related Titles